Rates
| | Special Rates | Standard Rates |
| --- | --- | --- |
| | Bed & breakfast | Bed & breakfast |
| Classic Double | € 100,00 | € 140,00 |
| Superior Double | € 130,00 | € 170,00 |
| Deluxe Double | € 160,00 | € 200,00 |
| Junior Suite | € 190,00 | € 230,00 |
Special Rates 2013 are valid in August, from November 4th to December 5th and from December 9th to 25th 2013.
Rates are per day, per room and include buffet breakfast.
Special Rates 2014 are valid from January 6th to March 31st, July, August, from November 3rd to December 4th and from December 8th to 24th 2014.
Visitor's city tax. The authorities of the Napoli town have decided that a visitor's city tax will be charged to the hotel guests. For the 4-star hotels, as Albergo Palazzo Decumani, the tax will be Euros 2.50 per person and per night. This fee is not included in the room rate. It will be applied for the first 10 nights of stay. Guests under the age of 18 are exempted.
Double room single use: Euro 20,00
(during the Special Rates: Euro 10,00)
Extra bed (except in the Classic rooms): Euro 20,00
Period New Year's Eve and Easter minimum stay 3 nights.
Cancellation Penalties
- For cancellations made at least 2 days prior to the scheduled date of arrival, no penalty will be applied
- In case of cancellations made less than 2 days prior to the scheduled date of arrival, the entire cost of the booking will be charged
- In the case of failure to cancel or 'no show', the entire cost of the booking will be charged
- In case of early departure, the entire cost of the booking will be charged
Cancellation fees for the New Year and Easter periods 2014
New Year: 26 December 2013 - 1 January 2014 - Easter: 19 - 21 April 2014
- Cancellation notice up to 15 days before arrival date: no charge
- Cancellation less than 14 days before arrival date: 100% of the stay will be charged as penalty
- In case of no-show or shortening of the stay after the check-in: 100% of the stay will be charged as penalty
Cancellation fees for the New Year 2015
New year 2015: 25 December 2014 - 01 January 2015
- Cancellation notice up to 15 days before arrival date: no charge
- Cancellation less than 14 days before arrival date: 100% of the stay will be charged as penalty
- In case of no-show or shortening of the stay after the check-in: 100% of the stay will be charged as penalty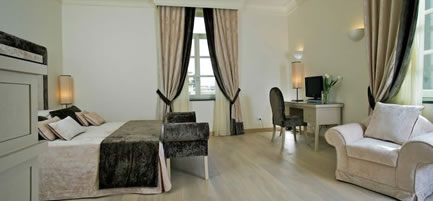 Special offers