Location
The Hotel Palazzo Decumani is situated in the heart of Naples, where the present city structure has developed over that built during the ancient Roman period. An urban plan whereby the complex network of secondary roads or 'cardini', the characteristic alleys of Naples, join with the principal streets of the 'decumani', now known as Via Tribunali and Via San Biagio Dei Librai.

Within easy walking distance of the hotel lie the Piazza and Church of the Gesù Nuovo, the Monastery of Santa Chiara with its famous cloisters, the Piazza and Church of San Domenico Maggiore, the charming little San Severo Chapel with its much celebrated Veiled Christ, San Gregorio Armeno, Naples' Cathedral and the treasures of San Gennaro, the Church of the SS. Annunziata, the Girolimini Art Museum, Naples Underground, the Archaeological Museum and much more besides.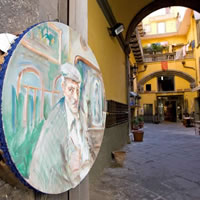 How to get here
By car
The Palazzo Decumani hotel is located in the Historic Center of Naples, in a restricted traffic zone (ZTL).
It is however possible to get the hotel entrance by car to unload the luggage.
In case you want to reach us with your personal car, you can access the ZTL exclusively through the passage of Via Miroballo Al Pendino from Corso Umberto I (A) as you can see on the map below.
It will be necessary to communicate at the Reception desk your car plate number and the exact time of access to this gate, at each passage ,during the restriction of the ZTL area (every day from 9:00am to 5:00pm).
Upon arrival, it will be possible to reserve a parking spot in the garage that has an agreement with the hotel, a 5-minute walk away.
Taxis and authorized cars (NCC) can reach us without any restrictions
GPS coordinates of the Hotel: latitudine 40.84894 - longitudine 14.25926
From the airport
From Capodichino Airport we suggest taking a taxi, paying the fixed price. Otherwise you can catch the Alibus and stop at Piazza Garibaldi; from there you have to walk for about 15 minutes. From Piazza Garibaldi you can also catch the R2 Bus to Via Duomo and then continue on foot.
By train
From Piazza Garibladi Station you can reach the hotel by taxi, on foot (15-minutes walk) or by bus (R2).